Julia Kantor - producer/vocalist
is originally from Ukraine, but her heart resides in France (the commute is a killer).  She has lived and studied in Rennes, and she speaks French fluently.  As the visionary behind Paris Chansons, guiding the ensemble from its humble origins to performing now all over the country as well as internationally, she is passionate not only about being on stage but continuing to expand the group's audience and reach.  
Before Paris Chansons, together with her husband, Jacob, a Russian-born singer/songwriter, she has appeared at clubs and festivals all over Los Angeles.  They began singing on their first date and have continued ever since.  They now take turns being ignored by their children in multiple languages.  
is a Los Angeles-based performer born in Morocco and raised in Israel.  He grew up steeped in French music, particularly the songs of Enrico Macias.  Today Max's rich velvety tone delivers beautifully nuanced renditions of his favorites, complete with a signature North African lilt.  
Jacob Kantor - guitar/vocals
was born in Moscow, Russia.  He likes to wear a hat so people don't know that he's bald.  What he doesn't realize is they suspect he's bald anyway.  Jacob plays the guitar and sings.  He is, however, keenly aware that the main reason he made it into the ensemble is because he married one of the singers.
is originally from Las Vegas, NV.  He has toured, recorded, produced and arranged with such artists as Donna Summer, Linda Eder, Richie Furay, Sam Phillips, Paul Overstreet, Garry Shandling,  Rita Coolidge, Phil Keaggy, Crystal Lewis, Michael W. Smith, Benny Hester, Tommy Walker, and others. 
He completed several years on Broadway as the Musical Director for Frank Wildhorn's "The Civil War" and the Laurence Olivier Award-winning "The Kat and the Kings" as well as the Pay-Per-View broadcast of "Jekyll & Hyde" and Associate Conductor/Pianist on "Wonderland" on Broadway. He also wrote, produced, and performed special soundtrack music for Sidney Pollack's movie "Sabrina" starring Harrison Ford.
Jeff has arranged and programmed many of the Maranatha! Music and Vineyard recordings and is a clinician/product specialist for Roland.
He lives in southern California with his wife Belinda and son Jordan. His daughter Aria is in heaven.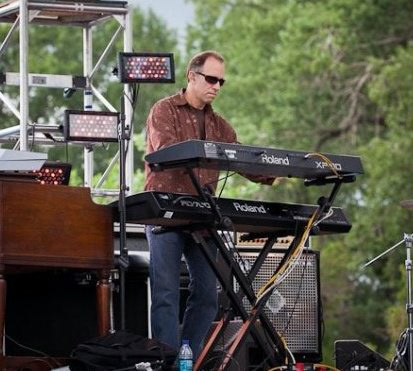 has performed as violin soloist with the Berlin Philharmonic, Rotterdam Philharmonic, Zürich Tonhalle Orchestra, Frankfurt Symphony, and Basel Symphony as well as countless other European ensembles.  In the United States he has appeared with the Los Angeles Philharmonic and the orchestras of Washington D.C., Seattle, Denver, Dallas, and Honolulu to name just a few.  In the course of his career he worked with such eminent conductors as Zubin Mehta, Edo de Waart, James de Priest, Lawrence Foster, Milton Katims, and Christoph von Dohnányi.  Endre has had several concert tours of the United States, and Europe; which have included live televised recitals in Amsterdam and taped performances for the BBC.  
He is an accomplished chamber music performer and toured throughout the United States, Canada, and Europe with the Pacific Trio for nearly 30 years.  He has also collaborated in concert with such luminaries as Vladimir Horowitz and Leonard Pennario as well as in the acclaimed series of 1993 chamber concerts: "André Watts and Friends."  
Endre is also an award-winning photographer, whose works are displayed in many prestigious collections.  He has had several solo gallery showings of his work and in 2010, Shutterbug Magazine chose one of his photos to grace the cover of their annual "Expert Photo Techniques" guide.  All his photos can be seen at endre-balogh.artistwebsites.com
He lives in Southern California with his wife Mona and daughters, Csilla, Katalin, and Eva. His son, Antal, is in heaven.
In a city where the best of the best have set the bar high for their fellow bassists looking to earn their place among them, Adam Cohen has carved out a healthy piece of the pie. On almost any given night in Los Angeles, Adam can be found lending his solid and creative support to an array of artists covering a broad range of stylistic demands. The clarity of his lines, the sturdiness of his groove, and his abilities as a soloist has, in addition to making him a favorite among many artists and composers, put him in the spotlight as leader of his own band.
Indeed, Adam's prowess on both the acoustic and 6-string electric bass has found him sharing stage & studio with the likes of Ray Charles, The New York Voices, Taylor Dayne, David Benoit, Maxine Nightingale, Ernie Watts, Phil Upchurch, Gregg Karukas, Eric Marienthal, Tim Weisberg, Connie Stevens,  Eric Benet, and Engelbert Humperdinck. As a recording artist, his playing and composing is showcased on his two albums – 1994's Gig Bag and his brand new release, Ritual.
Born in Queens, New York, Adam's introduction to music began at age 5 in the form of piano lessons given by his father. It is at the piano where the foundation of his musicianship lies. At age 14, his attraction to the sound of the bass as both a supportive and melodic instrument led him to private study with classical bassist Frank Blake. In addition to his lessons on the acoustic bass, Adam began honing his electric bass chops by emulating the styles of Verdine White, Paul McCartney, Peter Cetera, Stanley Clarke and Francis "Rocco" Prestia.
While still in high school, Adam got the position as bassist for the local college jazz ensemble. This led to an increasing interest in jazz music and the early development of a solo voice on the bass. The next several years brought numerous experiences and challenges to Adam; bassist with the L.A. City College Jazz Band, road work, club gigs and further study with Bunny Brunel, Jeff Berlin, and Gary Willis. Regarding his melodic approach, Adam says, "I've always sought to emulate the lyricism and phrasing of horn-players, pianists and guitarists. At the same time, I don't want to ignore the inherent qualities and responsibilities of my chosen instrument."
After many years working as a sideman, Cohen developed an interest in writing his own music. Finally, those piano lessons would come in handy! In the early 90's, Adam would begin an ongoing series of "jam sessions" with some of L.A.'s best musicians which led to the formation of his own group. Here was an opportunity to "road test" his music with his new band which included saxophonist Tom Buckner, pianist John Opferkuch, guitarist Jimmy Mahlis and drummer Bob Harsen.
In the summer of '94, Adam recorded his first album Gig Bag. His solo debut, a collection of nine tunes all written and arranged by Cohen, went on to receive excellent reviews in the L.A. Jazz Scene and the online music journal Jazz World. His new album, Ritual, is the culmination of several years of growth and experience. With a new level of depth and personal expression, Cohen's new record is sure to have something for everyone as the bassist and his compositions explore straight-ahead jazz, fusion, samba, ballads, and world music.
http://www.adamcohenmusic.net
Drummer Sinclair Lott was born in Los Angeles where he currently lives and performs in a multitude of musical genres from commercial studio work to original jazz projects. Some of the musicians he has worked with include Freddie Hubbard, Tigran Hamasyan, Dianne Reeves, Mose Allison, Frank Zappa, Vanessa Williams, Big Joe Turner, Billy Childs, Tierney Sutton, Otis Rush, Eric Gale, Mike Miller, Harry Allen and Bob Sheppard.